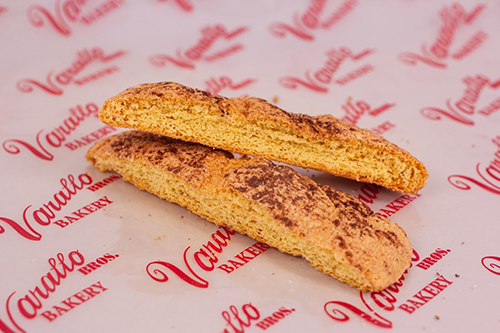 Honeynut, Pistacchio, Anise, Tiramisu, Vanilla, Chocolate , Fruit and Nuts
Step into the heart of South Philadelphia and travel through time to the aromatic streets of Italy with our authentic Italian Biscotti. The name "Biscotti" is derived from the Latin "biscoctus," meaning "twice-cooked" or "twice-baked." This distinctive baking process gives Biscotti cookies their unique crunchy texture, perfect for dipping in your favorite beverage.
Honeynut: A sweet symphony of honey, harmonizing with nuts, making this Biscotti an unforgettable treat.

Pistachio: Experience the richness of Italian heritage with every bite of our Pistachio Biscotti.

Anise: A fragrant journey through the aromatic realms of anise, encapsulated in our best Italian Biscotti.

Tiramisu: Immerse yourself in the classic Italian dessert flavor, crafted perfectly into our Tiramisu Biscotti cookies.

Vanilla: A timeless favorite, our Vanilla Biscotti offers a delicate, comforting embrace with every bite.

Chocolate: Indulgence redefined with our deep, rich Chocolate Biscotti. Truly, the best Italian Biscotti experience.

Fruit and Nuts: A harmonious blend of dried fruits and nuts, presenting a delightful crunchy treat for the senses.