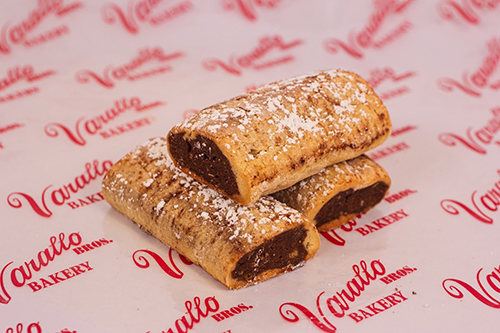 Fig Bars: A Symphony of Richness in Every Bite
Step into Varallo Brothers Bakery in South Philadelphia and discover the delight of our handcrafted Fig Bars. Far removed from the everyday boxed variety, these bars represent the epitome of culinary craftsmanship.
Inside each bar lies a treasure of deep-flavored fig filling, a testament to our commitment to premium ingredients and authenticity. This luscious center promises a rich and immersive tasting experience.
Our Fig Bars are not just about the filling. The exterior boasts a hint of crispness, beautifully complementing the soft fig heart. This delicate balance ensures that every bite is a layered experience of textures and flavors.
Forget what you know about typical fig bars. Our handcrafted offerings stand in a league of their own, full-sized and filled end-to-end with luxurious fig goodness. Let your taste buds revel in the elevated experience of Varallo Brothers Bakery's Fig Bars.