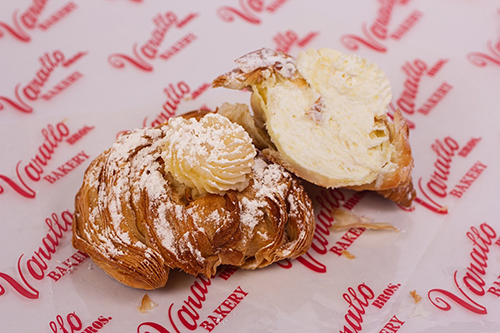 Coda Di Daragosta aka "Lobster Tail"
A Bite of the Sea in South Philadelphia: Coda Di Aragosta - The Lobster Tail Pastry
Step into Varallo Brothers Bakery and let your senses be captivated by the allure of Coda Di Aragosta. A dessert that's as exquisite in taste as it is in appearance, our Lobster Tail pastry is a testament to Italian baking artistry.
Craftsmanship in Every Layer: Crafted with layers of crisp, flaky pastry that envelop a rich, creamy filling, each bite of our Lobster Tail is an exploration of textures and flavors.
Ricotta: A traditional Italian favorite, the ricotta filling offers a creamy, slightly tangy contrast to the crunchy pastry, creating a harmonious balance.

Vanilla: Smooth, aromatic, and sweet, our vanilla filling complements the pastry layers with its velvety richness.
Join us in-store and let the Coda Di Aragosta transport you to the Italian coastline, where tradition and innovation meet in every bite.